Super-fast Internet, phone in CU
(Champaign, IL)//—Locally-owned Volo Broadband announced today the expansion of their phone and super-fast Internet services, with Internet speeds up to 1000 megabits per second. Volo's services lead the nation in price and performance, with special rates in Champaign County Housing Authority buildings as part of Volo's Digital Equality Initiative. Super-fast Internet is now available to thousands of homes, apartments, and businesses on the fiber-based UC2B network in Champaign and Urbana. The new phone service is available throughout Central Illinois to all residents, regardless of Internet provider.
"Our community invested millions in the UC2B fiber backbone," said Peter Folk, CEO of Volo Broadband. "Volo's super-fast Internet adds value to that investment."
"This technology keeps Champaign-Urbana competitive and ahead of the curve," continued Folk. "This is exactly the kind of innovation and choice envisioned with UC2B—technology and access that allows Champaign-Urbana to join an elite few cities in the U.S. with affordable, super-fast broadband."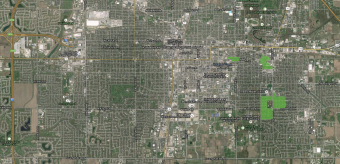 Businesses, homes, and tenants in UC2B-served areas, anchors, and other locations (see map to right) can now sign up for Volo Internet service over UC2B fiber. Internet pricing begins at $19.95/month for select apartments and $29.95/month for homes and businesses. Unlimited phone service is available to anyone with broadband Internet for $12.95/month. Volo also offers wireless internet and satellite-based television options, with fiber-based TV coming later this year.
Volo's superfast internet is also available in the three main Champaign County Housing Authority buildings at special rates and with other specialized services to help bridge the digital divide. "Our mission is to improve access for all. That's why we made sure that public housing facilities aren't behind the curve," explained Brian Bell, Program Director of Volo's Digital Equality Initiative. "We tailored our services in those buildings to meet the specific needs of the individuals that live there" including lower priced entry-level services, digital literacy classes, and assistance with accessing Over-the-Air TV. Over a dozen low-income residents of Housing Authority facilities have already taken advantage of these new service offerings.
"This is Volo's first step in providing these cutting-edge services throughout Central Illinois. Our next step is to move beyond the UC2B service area and bring these innovative services to the rest of our community."
"Serving areas outside of the UC2B network requires the support of the community and coordination with local governments, UC2B, and neighborhoods," said Folk. "We encourage those interested in these high-tech, low-cost services to contact Volo. We want to see this technology serving our entire region."
For more information on Volo services, visit http://volo.net/
About Volo Broadband
Volo Broadband was founded in 2001 with the mission of making Central Illinois a more attractive place to live and grow families and businesses by providing affordable, reliable, and locally-controlled broad-band internet services. Volo's high-speed, low-cost, reliable Internet access and phone alternatives feature industry-leading pricing and exceptional customer service. For more information, contact Peter Folk, CEO, or Volo Broadband at peter@volo.net or (217) 721-3893 or visit www.volo.net.
Topics: